About the Artist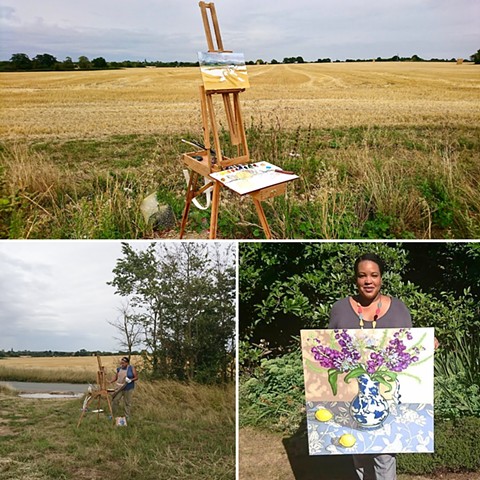 Galleries:
The Hunter Gallery- Suffolk, England
John Noott Galleries- Broadway, England
Morningside Gallery- Edinburgh, Scotland
Halima works mostly from her home studio in Suffolk, England, but occasionally works en plein air in the beautiful countryside near her home. She paints almost every day and is always creating. She holds a B.A in Visual arts and Art History from Occidental College in Los Angeles and an M.F.A in Painting & Drawing from the Academy of Art University in San Francisco. She has had a love of art since childhood and has been painting professionally since 2006. Her work is currently represented by several galleries in the UK.
For one to one art lessons (in a around Sudbury and Colchester) or if you would like to paint outdoors on location with the artist, please get in touch via the contact page.
Artist Statement:
"I approach each painting in the spirit of the moment, building layer upon layer, finding the perfect balance between form, content, tradition and abstraction. Being influenced by Post-Impressionist painters, my work has an emphasis on light, colour and texture. I also use my immediate surroundings as my muse. Painting familiar subjects makes it easier to loosen up. The process becomes less about rendering and more about expressing life."
– H.W-Dixon